The Manage Profile screen allows you to update the following details:-
Upload a profile picture
Edit your name and country details
Update your employment details
Modify your experience level
Specify your review charges and availability details
Update your mobile details
Change your password
Manage notifications
To access the Manage Profile screen, click the My Profile link available at the top-right of the screen. You can also click the profile picture to access the screen.

When you click the My Profile link, the Manage Profile page appears.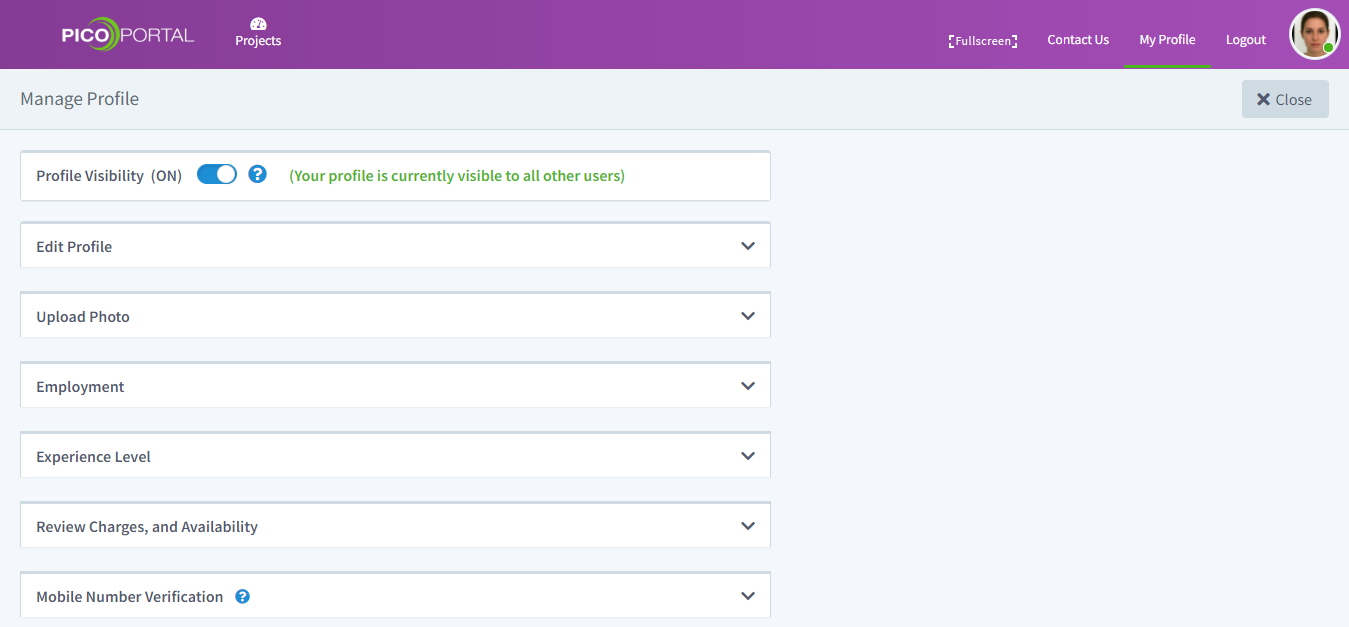 Edit Profile
The Edit Profile accordion allows you to update your name, city, state, zip, and country details. Click the Save button after you update the required details.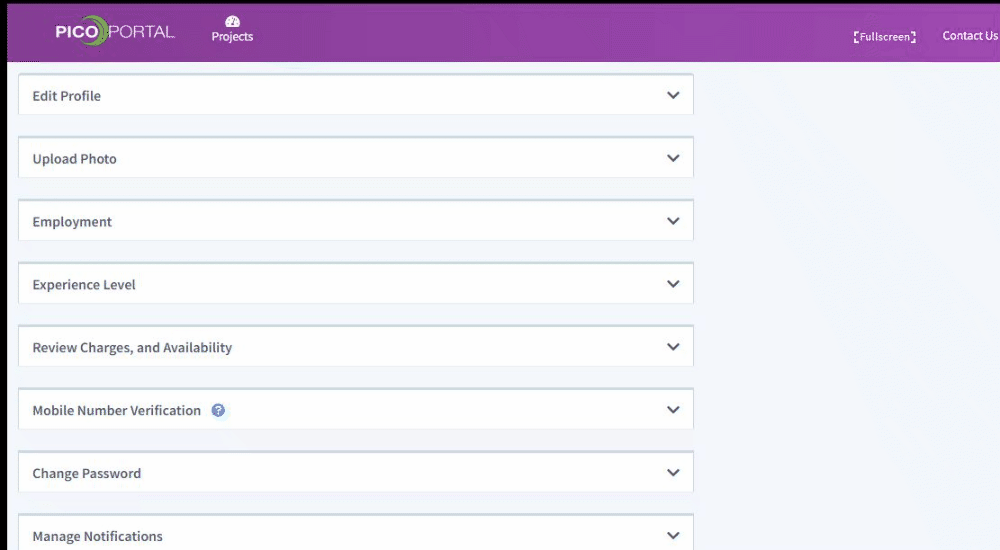 Upload Photo
The Upload Photo accordion allows you to upload and save a profile picture for your account. To upload a picture, click the Choose file button and select the required picture.
Use the mouse wheel to zoom in and out of the image. After you have adjusted your picture, click the Save button.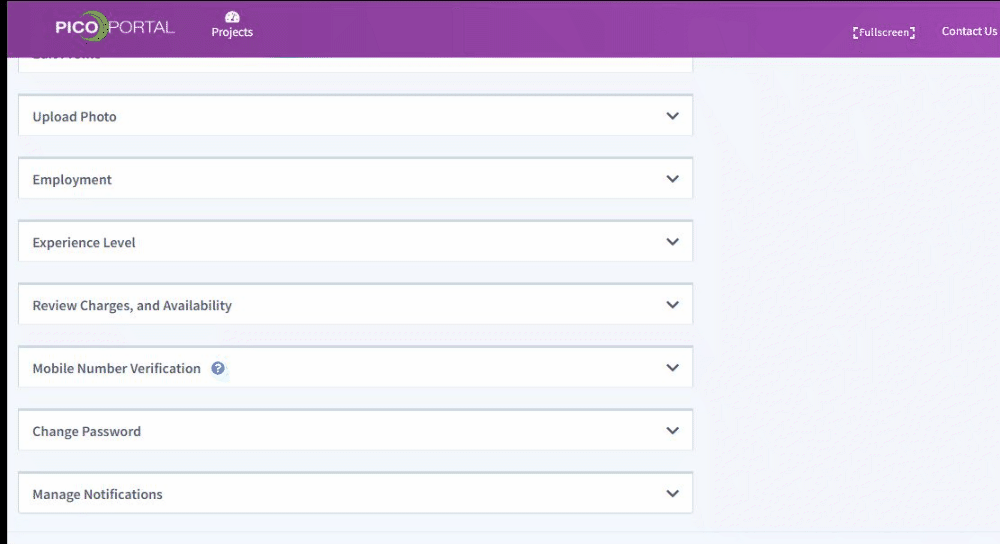 Employment
The Employment accordion allows you to select whether you are a freelancer, university member, company employee, or a government employee. You can also specify your LinkedIn or Business Profile URL, name of the university, and the university website as required.
Experience Level
The Experience Level accordion allows you to select your expertise in P,I,C,O, your review skill if you are a senior or a junior, and also the number of published reviews that you have completed.
Review Charges and Availability
The Review Charges and Availability accordion allows you to add your review charges in USD per 100 reviews and specify the weekly availability.
Mobile Number Verification
Specifying mobile number is essential as it will help other reviewers/judicators reach out to you in case of any queries or conflicts.
Mobile number verification is a two-step process where you enter your mobile number in My Mobile Number and click the Get Code button. You will receive a 6-digit verification code on the entered mobile number. Enter the verification code in the Verification Code box and click the Verify Code button.
After the verification is completed, click the Save button.
Change Password
The Change Password accordion allows you to update your password. It is recommended that you update your password regularly for security purposes.
To change your password:
Click the My Profile link at the top-right of the screen. You can also click the image icon on the top-right. The Manage Profile screen appears.
Scroll to and expand the Change Password accordion. The Old Password field is already
Enter your new password in the New Password and the Confirm Password text box.
Click Save.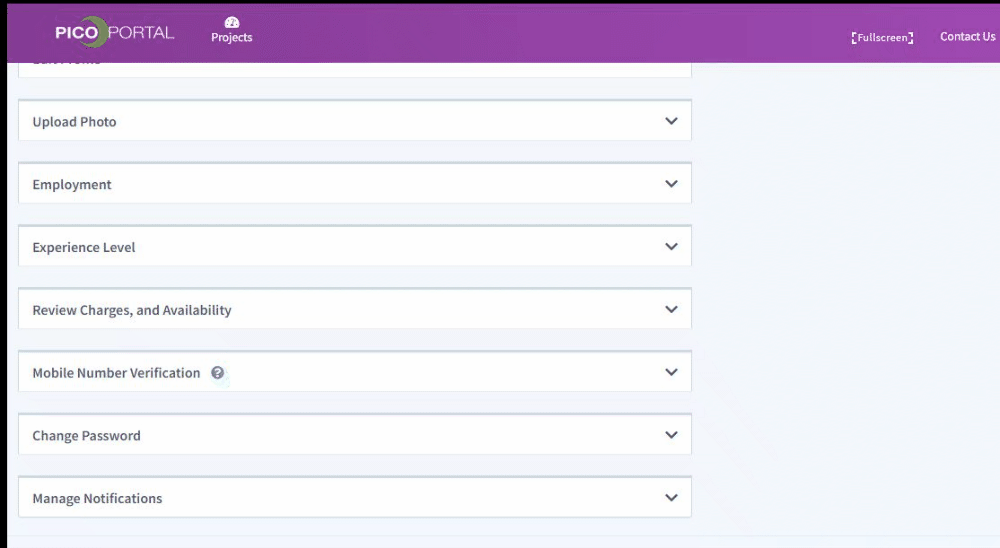 Manage Notifications
PICO Portal allows you to manage the notifications that you get on your email and on your mobile. You can enable or disable the notifications that you want to receive via email or text using the Manage Notifications accordion.