Replace PDF in Full Text Review
After you have performed abstract screening, the citation will be available for a full-text review, if it is included by consensus. In a full-text review, you can go through the PDF and make further decisions. PICO Portal populates the PDF from the source automatically. It is recommended that you verify the title in the full-text PDF with the title of the abstract.
If the PDF is incorrect, then you can replace the file with the correct PDF. To replace the PDF, perform the following steps.
Navigate to the appropriate citation where the full-text PDF is to be replaced.
Click the Replace Full Text PDF button. The Update Full Text PDF dialog box appears.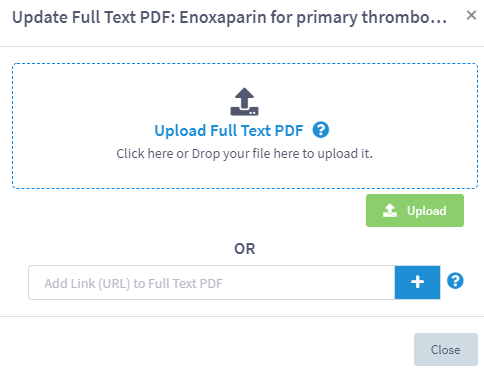 Drag and drop the PDF that you want to upload. If you do not have the PDF and have the URL where the PDF is hosted, then specify the URL and click the + button.
The PDF is uploaded and the new PDF appears in the window.